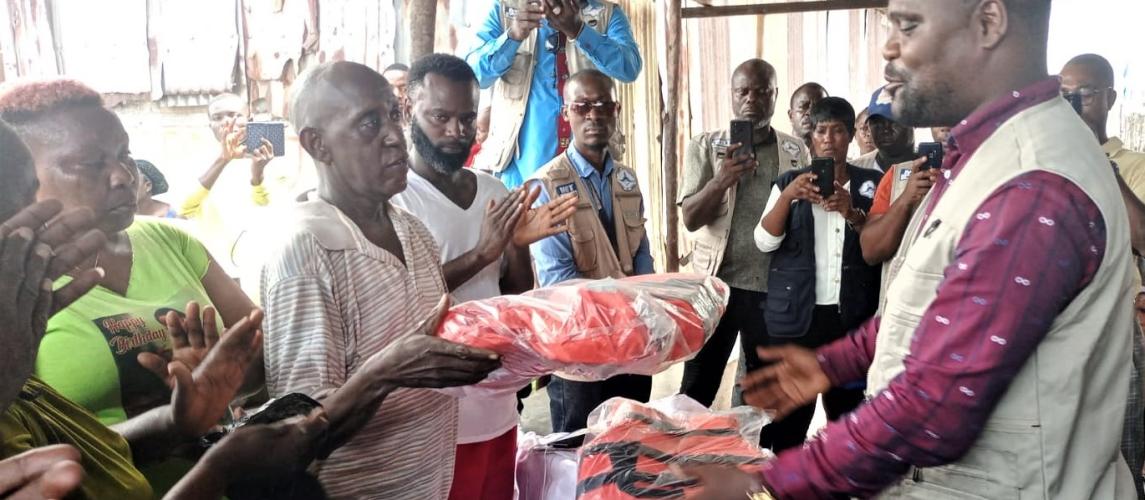 MOT DONATES LIFE JACKETS TO WATERWAYS TRANSPORTERS IN MONROVIA
Monrovia-As part of efforts to ensure safety in the Transport sector of Liberia, the Ministry of Transport on Thursday, Feb.2, 2023 presented 20 pieces of life jackets to Liberia Standard Sea/Rivers Transport Association engaged with waterway transport service delivery via canoe at the West point-Clara town crossing point in Monrovia.
Presenting the jackets on behalf of the Ministry, Deputy Transport Minister, J.Darious Kollie urged the Leadership of the Liberia Standard Sea/Rivers Association headed by Mr. Peter D.Kanbor to utilize the jackets for the intended purpose as Transport Minister, Samuel A. wlue is deeply concerned about the safety of commuters and operators boarding canoes on the daily basis in search of trade and other socio-economic activities. Minister Kollie said the Ministry with assistance of the National Fisheries & Aqua-Culture Authority (NAFAA) has made it possible.
He assured that the Ministry is working closely with stakeholders and partners to ensure the delivery of quality waterways transport service to citizens across the country. He said conduct of a feasibility has been completed with support from the World Bank on the Messurado River to be used for waterway transport service so as to decongest traffic and increase urban transportation of people, goods and services in Monrovia and its environs, as well as across Liberia.
Receiving the jackets on behalf of the group, Mr. Peter D.Kanbor, Chairman of the Liberia Standard Sea/Rivers Transport Association expressed special thanks and appreciation to the Ministry of Transport for the donation and promised to use for the intended purpose.